Eye Diseases
Questions:
Allergic Eye Disease

What Is Allergic Eye Disease?
Allergic eye disease is often known as allergic conjunctivitis, and is an inflammation of the conjunctiva caused by an allergic reaction. The two most common forms of allergic eye disease include seasonal allergic conjunctivitis and perennial allergic conjunctivitis. Seasonal allergic conjunctivitis is often associated with the effects of hay fever. Perennial allergic conjunctitivitis often occurs on a year round basis and its prominence is attributed mainly to permanent contact with the allergen. In perennial allergic conjunctivitis the most common allergen is house dust or pet dander.
Are There Other Forms Of Allergic Eye Disease?
There are other forms of allergic eye disease and are often the less common forms of allergic eye disease. Some of these less common forms include:
Atopic Keratoconjunctivitis - Atopic keratoconjunctivitis is a chronic, bilateral inflammation of the eyelids and conjunctiva and is often associated with atopic eczema
Vernal Keratoconjunctivitis - Vernal keratoconjunctivitis is a rare but chronic bilateral disease occurring mostly in children who have a history of atopy
Giant Papillary Conjunctivitis - Giant papillary conjunctivitis is an inflammatory disorder of the superior tarsal conjunctiva. Giant papillary conjunctivitis often occurs in the presence of a foreign body and is often the result of contact lens use.
What Are the Symptoms of Allergic Eye Disease?
The more common symptoms of allergic eye disease include:
• Red eyes or eyelids
• Increased tearing
• Itchy eyes
• Blurred vision
• Swelling of the eyelid or eyelids

    Please contact our offices and schedule an appointment if you are experiencing any of these symptoms.

How Is Allergic Eye Disease Treated?
Allergic eye disease may disappear completely when the allergy is treated with antihistamines or when the allergen has been removed. For treatment of allergic eye disease, our doctor's may advise one or more of the following:
Topical Ocular Decongestants - This form of medicine reduces redness of the eye by constricting small blood vessels. Topical ocular decongestants are very affective, but are not recommended for long-term use. It is possible that overuse of this medicine can actually worsen symptoms if used for more than a few days.
Topical Ocular Antihistamines - The use of this medicine reduces eye redness, itching and swelling by blocking the actions of histamine. Histamine is the chemical that causes these symptoms of allergic eye disease. This form of medication is available over-the-counter and by prescription.
Topical Ocular Steroids - If other forms of medication do not seem to be helping you, please contact our offices and inform our staff so we may provided you with proper treatment. Our doctor's may prescribe you with steroid eye drops to relieve the symptoms of allergic eye disease. This medication must be used with the supervision of our doctor's because the use of topical ocular steroids can cause an increase in your intraocular pressure. An increase in your intraocular pressure can cause damage to your vision. Our doctor's will also look for any signs of a viral eye infection like ocular herpes, before prescribing the use of topical ocular steroids. It is also possible that the use of topical ocular steroids will increase your chances of developing cataracts.

Cromolyn - This medication is recommended for use before symptoms of allergic eye disease occur, and works by stopping specialized cells from releasing histamine.

Immunotherapy - Allergy shots provided by your doctor can be effective in stopping the effects of allergic eye disease.
What Else Can I Do To Help My Allergic Eye Disease?
To relieve some of the symptoms of allergic eye disease, our doctor's recommend the use of following:
• If you are a contact lens wearer, we suggest you remove them and wear your glasses for a while
• The use of cold compresses placed over your eyes
• The use of artificial tears may help relieve some of the symptoms of allergic eye disease. Artificial tears are an eye drop that can help relieve the itching and burning caused by allergic eye disease. We do not recommend that you use the same bottle of drops in the other eye if it is not affected by allergic eye disease. Using the same bottle of eye drops in the other, unaffected eye may cause that eye to become affected.
---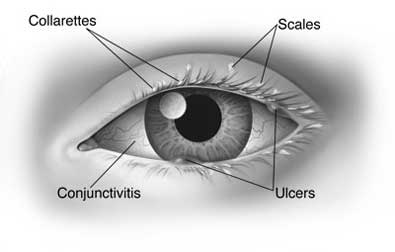 What Causes Blepharitis?
Everyone has bacteria on the surface of their skin; however some people have bacteria that thrives in the skin at the base of the eyelashes. Large amounts of bacteria around the eyelashes can cause dandruff-like scales and particles to form along the lashes and eyelid margins. Blepharitis is also associated with meiobomitis. Meiobomitis is a dysfunction and inflammation of the nearby oil glands of the eyelids. These glands are called the meiobomian glands.
How Is Blepharitis Treated?
Blepharitis is often a chronic condition, but can be controlled with treatment. The following treatments can help control blepharitis:
• Warm Compresses
• Eyelid Scrubs
• Antibiotic Ointment
• Good Hygiene
• Omega 3-6-9 Fish Oil Capsules
If you have any questions about these treatments or questions about this condition please feel free to contact our offices.
---
Chalazion

What Is A Chalazion?
The term chalazion is Greek for "small lump." Chalazion refers to a swelling in the eyelid caused by inflammation of one of the small oil producing glands located in the upper and lower eyelids. These glands are known as the meiobomian glands. Often, a chalazion is confused with a stye, which also appears as a lump in the eyelid. Unlike a chalazion, a stye is an infection of a lash follicle that forms a sore, red lump near the edge of the eyelid.
A chalazion is an inflammatory reaction to trapped oil secretions. A chalazion is not caused by bacteria, although it can become infected with bacteria. Unlike stye's, chalazion's tend to form farther from the edge of the eyelid, and tend to "point" towards the inside of the eyelid. It is not uncommon for a chalazion to cause the entire eyelid to swell suddenly, but usually there is a definite tender point.

How Is A Chalazion Treated?
When a chalazion is small and without symptoms, it may disappear on its own. When a chalazion is large, it may cause blurred vision. A chalazion is treated with any or a combination of the following methods:
• Warm Compresses
• Steroid Injections
• Surgical Incision or Excision
Chalazion's usually respond well to treatment, although some people are prone to recurrences. If a chalazion recurs in the same place, a biopsy of the chalazion may be necessary.
---
Corneal Abrasion

What Is The Cornea?
The cornea is the clear front window of the eye, and covers the colored portion of the eye. The cornea is composed of five layers, and the outermost layer of the cornea is called the corneal epithelium.
What Is A Corneal Abrasion?
A corneal abrasion refers to a scratch or injury to the corneal epithelium. These abrasions are quite common and are painful. They result from contact lenses, tree limbs, bushes, or vigorous rubbing of the eye. Corneal disease has been understood to be a contributing factor also.

How Is A Corneal Abrasion Treated?
Copious lubrication is important for comfort and to help promote healing. An antibiotic may be prescribes to prevent infection. Anesthetic drops can relieve pain and facilitate examination but may keep the eye from healing properly if used repeatedly. Occasionally, long after an abrasion has healed it may recur suddenly. Recurrent corneal abrasions often require the use of ointments at bedtime. In some cases a soft or bandage-type contact lens is used to facilitate healing.
What Problems May I Have?
If bacteria gets into the tissues under the protective corneal epithelium, infection or a corneal ulcer can occur. These can be very serious and cause vision loss if untreated. In most cases corneal abrasions will heal completely, but it is necessary to see our doctors to prevent any serious visual complications.
How Long Will It Take To Heal?
A corneal abrasion will usually heal within a week. During the healing process it is very important not to rub the affected eye. The new epithelium cells are fragile and easily be rubbed off. When the new epithelium cells are removed, the pain returns.
---
Diabetic Retinopathy




How Does Diabetes Affected The Eye?
If you have been diagnosed with diabetes mellitus, your body does not use and store sugar properly. High blood-sugar levels may damage the blood vessels in the retina. This damage to the retina is known as diabetic retinopathy.
What Are The Types Of Diabetic Retinopathy?
Diabetic retinopathy has been classified as two different types. Non-proliferative diabetic retinopathy, also known as NPDR, and proliferative diabetic retinopathy, also known as PDR.
Non-Proliferative Diabetic Retinopathy - NPDR has also become known as "background retinopathy," and is an early stage of diabetic retinopathy. During this stage, tiny blood vessels within the retina leak blood or fluid. The leaking fluid causes the retina to form deposits known as exudates, or swell. Many diabetics have a mild case of NPDR and their vision is usually left unaffected. However, when the vision becomes affected, it is usually the result of macular edema and/or macular ischemia.

Macular Edema - Macular edema is swelling, or thickening of the macula. The swelling is mainly caused by leaking fluid from retinal blood vessels. This is the most common cause of vision loss among diabetics. Vision loss can be mild to severe, but even in the worst cases, peripheral vision continues to function.
Macular Ischemia - Macular ischemia occurs when small blood vessels called capillaries close. Vision becomes blurry because the macula is no longer receiving sufficient blood supply for it to function properly.
Proliferative Diabetic Retinopathy - PDR is present when abnormal new vessels (neovascularization) begin forming on the surface of the retina or optic nerve. PDR is mainly caused by widespread closure of retinal blood vessels which prevents and restricts adequate blood flow. The retina responds to this by creating new blood vessels in an attempt to supply blood to the area where the original vessels have closed.
These new, abnormal blood vessels do not re-supply the retina with normal blood flow. These new blood vessels are often accompanied by scar tissue that may cause wrinkling or detachment of the retina. PDR may cause more severe vision loss than NPDR because it can affect both central and peripheral vision.
PDR causes vision loss in the following ways:
Vitreous Hemorrhage - The fragile new vessels may bleed into the vitreous of the eye. If the vitreous hemorrhage is small only a few new dark floaters may be noticed. If the vitreous hemorrhage is large it may block out all vision in that eye. It may take the eye days, months or even years to resorb the blood, dependent upon how much blood is present. If the blood in the vitreous is not adequately cleared by the eye within a reasonable time span, vitrectomy surgery may be needed. This is performed by a retina specialist. A vitreous hemorrhage alone cannot cause vision loss. However, when the blood clears, visual acuity may return to its former level unless the macula is damaged.
Traction Retinal Detachment - When PDR is present, scar tissue associated with neovascularization can shrink, causing the retina to wrinkle and be pulled from its original position. Macular wrinkling can cause visual distortion, and more severe vision loss can occur if the macula or large areas of the retina are detached.
Neovascular Glaucoma - Occasionally, extensive retinal vessel closure will cause new, abnormal blood vessels to grow on the iris and block the normal flow of fluid out of the eye. Due to the abnormal flow, pressure in the eye builds up resulting in neovascular glaucoma. Neovascular glaucoma is a severe eye disease that causes damage to the optic nerve.
How Is Diabetic Retinopathy Diagnosed?
Having a comprehensive eye examination is the only real way to find changes inside your eye. It is often possible to diagnose and treat serious retinopathy before you are aware of any problems with your vision. During the eye examination our doctor will dilate you and look inside your eye using an ophthalmoscope. It may be necessary to take color photographs of the retina or have a special test called fluorescein angiography to find out if you need treatment. With the fluorescein angiography test, dye is injected into your arm and photos of the eye are taken to detect if there is fluid leaking.